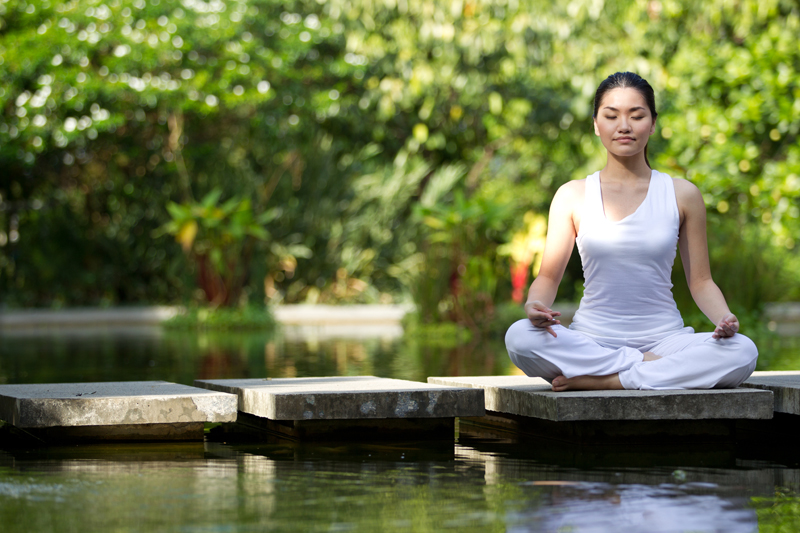 I hear all the time from people saying that they can't meditate, and how they've tried but think their mind is too busy and it is impossible for them to do. Of course, they are right when they start from there.

It is not something that we are just able to do. We can't go from zero to peace without making some inner changes and looking at things differently.

We act as if life is an emergency that needs to be fixed and tend to move from one challenge to another and never really enjoy anything. It can seem like we are waiting for the next challenge to come along that knocks us back so we are continually on high alert waiting for the next thing we have to deal with.

Being mindful and able to meditate is not just something that happens and you are able to do, they are ways of being, not something that we just do from time to time. In order to get the mind to slow down and to allow peace to be your natural way, you must bring it into your daily life.

The number 1 block to being able to meditate, is not making it a new lifestyle and way of being, and expecting it to fix everything without taking any action towards being more aware of ourself and our usual ways of being.

We tend to see it as another thing we have to add into our already busy schedule and don't take time to be in the space within ourselves that is necessary for meditation. Trying to fit in into your life from there is just not going to work.

When you want to achieve anything you generally take the steps and actions necessary towards the desired outcome. Meditation is no different. If you find meditation difficult, what steps have you taken towards allowing it to be part of your life and way of being? If you are stressed, you will only be caught up in the stress.

When you go home carrying stress and feeling anxious you are less likely to notice the trees on the way home, or take in the beauty that surrounds you; and then less likely to sit in stillness to let the stress go. Life proceeds from where you are, so of course under the circumstances above, you will not be able to meditate, your mind will be too busy and your evening will be a continuation of more stress.

Gratitude would probably have left your awareness too as you get caught in the emotions and sensations that stress causes. Taking deep breaths can slow your mind down and help you to lessen the stress levels but if being stressed is your natural way of being, then no amount of anxious deep breathing will help. It would be like putting a sticking plaster on a gapping wound.

When you decide that you would like to meditate, to be successful it is best to start by bringing mindfulness practices into your day. Take time to be aware of how you feel, notice your surroundings, walk slower and enjoy all the moments in your life as if they are a gift. Don't think of it as another thing you have to fit into your day. Become it.

When you start moving your life in that way you become more meditative in yourself. Things that seemed like problems get easier to manage and you have tools to navigate them. Your awareness of self increases and you find that it is easier to manage stress when it does arise.

You can start by taking deep breathes and slowing yourself down, noticing what is around you and how you are feeling in your body. When waiting for the kettle to boil you can either wait impatiently looking at your phone or worrying about the next thing you have to do or you can consciously take in the surroundings, focus on your breath and let your self become still.

Otherwise we can bumble through life in the same way that we have always done hoping that it will become easier one day or we can consciously make the changes within ourself to see life differently, to notice its beauty and the gifts that are always there for us.

The usual challenges we face are generally in our mind. If you stop and notice the stress you are feeling and experiencing at this moment; does it have anything to do with what is happening around you right at this moment or is it a repetitive thought that is stuck in your mind that you are perpetuating and experiencing as if it is actually happening now?

More often than not, there is nothing going on in the present moment that we have to fix or are able to do anything about. We are usually dealing with a projection of what could be, or mulling over a potential situation. No-one can deal with something that is not happening in the moment, and by trying to we only cause ourselves distress, anxiety and fear based on the unknown and unfixable imagined thoughts that we are taking to be true.

Does it not seem more beneficial to be in the present dealing with what is actually arising rather than coping with the present while also dealing with stressful thought projections of things that are not happening anywhere apart from in your head?

Yes we all have challenges to face and we can take steps towards our desired outcomes, however worrying and stressing over things that we do nothing about just perpetuates the problem. As Einstein said "We can't solve problems by using the same kind of thinking we used when we created them" and the definition of madness is doing the same thing over and over while expecting different results.


Related Articles
Editor's Picks Articles
Top Ten Articles
Previous Features
Site Map





Content copyright © 2022 by Cat Hamilton. All rights reserved.
This content was written by Cat Hamilton. If you wish to use this content in any manner, you need written permission. Contact Cat Hamilton for details.